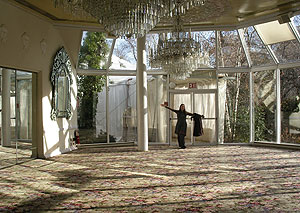 Most New Yorkers were probably depressed by this weekend's rainy weather, but when you have a wedding "To do" list that spans two columns on two pages, the weather was perfect for tackling our many tasks.

This weekend Jay and I tackled quite a few: Ripping CDs, finding our ring pillow, getting gifts for those helping us on our day, picking out information for out-of-town guests, sourcing various pieces from Chinatown for part of our wedding ceremony, and designing the programme, menus and favours. Phew!
But what I realize we haven't shared yet and have been meaning to, are some fabulous photos taken some weeks ago on a sunny Saturday of the reception venue, Tavern on the Green.
Tavern on the Green has been around for almost a century and has become a New York institution. Its humble beginnings were as a sheep shelter in 1870, and it's become a place for power lunches, high profile corporate events, and a backdrop for cherished celebrations. (You can read more about it here on the official website.)
Our reception will be in The Terrace Room. It is a glass pavilion with a wonderful, conservatory-like setting with a wall of windows providing a panoramic view of the Park. The room is noted for its stunning Waterford crystal chandeliers and hand-carved plaster ceiling.
It opens onto a private garden, a beautiful outdoor terrace with wrought iron furniture and Chinese lanterns.
Technorati tags: New York Tavern on the Green Wedding Reception