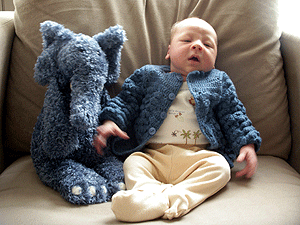 Calvin has been thoroughly spoiled with fabulous gifts which he has been thoroughly enjoying and we are loving. We've been enjoying a little touch of Africa in some of those.

Take for example his two sets of outfits with matching blankets that sport the cutest renderings of giraffes, hippos, lions and zebras. Calvin wore the one set home from hospital (among other occasions) and he's pictured in the other one above. (Topped off with a wonderfully warm hand-crocheted jersey from dear friends in South Africa that happens to match perfectly.)
You couldn't fail to notice his uber-soft elephant either! I'm not sure what name the little guy will eventually bestow on him, but for now in my head he is 'Bleu.' So we feel he's not missing out on his African connection and should be ready to wear some of his larger-sized gear when he goes to his other home in June.