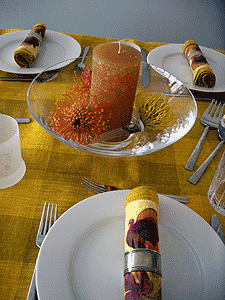 Last Thursday was Thanksgiving, and on the occasion of this adopted holiday, I had a few moments to think about how this would become a family tradition. By tradition I mean something beyond the pilgrim story, and the ritual of the meal and dishes. (Although you can see we enjoyed that part too!)
This was C's first Thanksgiving and hopefully the first of many. This time around found us gathering family and friends around the table for a traditional feast. We, sans chef Jay, kicked off the day collecting a Little Pie Company pumpkin pie and watching the start of the Macy's Thanksgiving Parade pass through Times Square.
Jay meanwhile had done the shopping and cheffing extraordinaire: brining and roasting the turkey (and carving it just the way the NYTimes video suggested), cooking mashed potatoes, sweet Italian sausage stuffing and vegetarian stuffing, and green bean with Marcona almonds. My contribution? Bourbon sweet potato bake with peacan topping.
Apart from the feast, it was both rewarding and humbling to take a day annually to consider the many reasons one has to be happy in one's life. Family. Friendship. Generosity. Health. Safety. Opportunity. Food ;0)
I also wondered; How will we forge this tradition with our unique family twist? Where will we end up celebrating the day in years to come?
The few moments for reflection came thanks to the extra pair of hands and huge heart we had staying with us for the week in the form of my mom-in-law. (Seen here with C at the parade.) She spoiled us all in ways big and small, and now that she's returned home, we find ourselves already missing her in a myriad of ways.
Technorati tags: Thanksgiving tradition