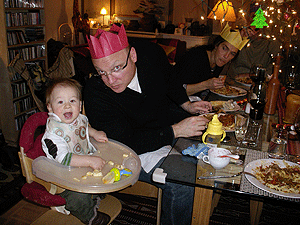 Last week a serendipitous opportunity presented itself: food + wine = a shared meal to remember.
I'd just finished cooking a large batch of Hungarian goulash in my favourite piece of kitchenware, the slow cooker. (How can one not worship a device that lets you plop ingredients into it, walk away, and return eight hours later to a delicious meal?)
Simultaneously, a friend of ours called to see if we could get together to share a rare bottle of wine. It was a bottle of 1961 Chateau Fourcas Hosten from Haute Medoc, recently liberated from someone's cellar. What a happy coincidence!
Even more fun was that we made it an early meal with DM and P, meaning Calvin got to sit at the table with everyone else and enjoy the meal. He had a more mushed version of the chicken (thumbs up), very much enjoyed the bread, but couldn't tell you anything about the wine.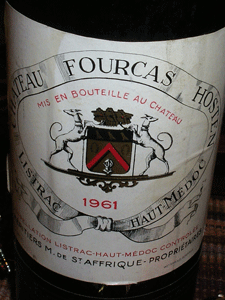 The wine was rather interesting; highly aromatic, a little snippy to start, but we found the perfect paring for it — a rather brilliantly rich Tomme Crayeuse that Jay picked up. Subsequent investigation reveals that the cheese is somewhat unique, created a mere decade ago by an affineur in the Savoie region. In their article on it, the San Francisco Chronicle writer notes that "I thought the cheese's tartness would make a wine selection difficult…" and proceeds to recommend a rather pricey bottle. We found our match in our bottle, so generously shared, and we were happily alternating between nibble and sip until the bottle was gone. (Click here to read the full article.