Hard to believe, but as we surveyed the top of our little guy's head this past week, we came to the conclusion that a haircut was in order. While some moms have the cutting confidence to take shears into their own hands, we decided to go a more conventional route and visit a specialist.
Calvin was enchanted with the elevated experience of taking the pilot's seat. And after a few snips here and there, a little pint-sized product application (witness the temporary mohawk), and a final blow dry and we were done.
You can see the final result below — and we can't get over at how the new hairdo makes our baby look like a little boy!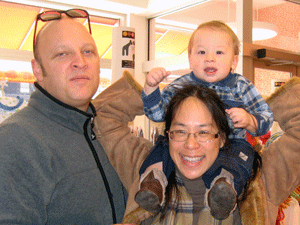 Technorati tags: first haircut toddler