Four months of pondering, researching, sitting, slouching, budgeting, comparing and musing all in pursuit of the perfect sleeper sofa might seem a bit much. but it's all worthwhile once you find 'it.'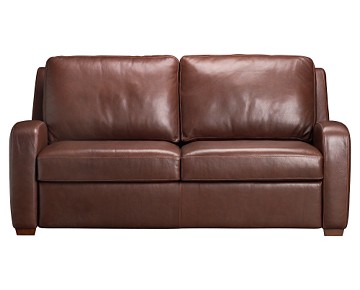 Our loyal royal blue Somteil sleeper has been supplanted. After years of trusty service, our blue wonder had racked up an impressive amount of miles: originally bought in Britain by C&B, who shipped it to South Africa, afterwhich it joined me in Jo'burg, only to set sail across the Atlantic again to New York. Here it accommodated guests in my old Upper East Side apartment and, until a few days ago, was fulfillling the same function in my current Hell's Kitchen digs.
Seeing the back end of 'el azul' on Thursday was a poignant moment. I hope that it found a new home somewhere. It was gently being wheeled down the corridor by our building crew. The accoutrements of its agedness — a pine plank now required to create a solid sitting platform, and the futon mattress required for a night's sleep less remembered for the ribs of its sleeper mechanism — gave off the heart wrenching impression of a patient heading for the emergency room.
This made it seem all the more treasonous to be sinking into the buttery brown seductiveness of "the other sofa."
Our betrayal began this summer, as we walked showrooms eponymous and otherswise in the city. From Jensen to Jennifer Convertibles, ABC to D for Domus, B&B Italia purveyors to Pottery Barn catalogues, and the online offerings of all those dedicated advertisers at the back of habitat rags Metropolitan Home, Dwell and more.
Who would have guessed that the answer would have laid at the corner of Broadway and Houston in another C&B-initialed source: one Crate and Barrel? We discovered a great reputation and an even greater couch with all those desirable, hyphenated credentials: "kiln-dried hardwood (frame)", "down-wrapped poly (cushins)", "full-aniline (leather)" and "Tiffany24-sleeper mechanism."
We got the brochure. The polariod. The business card. The sprawling, lounging, sitting experience. It was great. But a decision that required careful consideration. And so we spend the successive months pondering, comparing and pausing, until we agreed there was no better match for us. Which is why, the next time you come to visit for the evening or overnight, you can put the el neuvo to test.
[Note to People for the Ethical Treatment of Ass-accommodating-chaises: No couches were hurt during the writing of this piece.]