Deliciously superficial, fashion has cemented its foothold in New York's stereotype as the perfect counterpoint to the stressful, strenuous seriousness of the 60-hour work week.
Or perhaps it is because the city's citizens take everything so seriously — relationships, workouts, dining to name but a few — that fashion should be one more element on a sombre New York life list. (That would explain the ever ernest, grave, severe, unsmiling and humourless expressions on the city's fashionistas — ever notice those are all synonyms for "serious"?)
Last night, a few of those stern individuals joined a packed house at Cain, the South African-themed West Chelsea club described by CitySearch as being for "the women who wear fur and the men who love them."

Who were the other people in the house? According to some websites covering the event, "Fashion Industry Insiders, Press, Affluent Guests, and loads of MODELS!!!" (I'll leave you to guess which one of those categories I fall into.)
It was an evening to get your fix; of fashion, well-mixed cocktails and some of the the best scene on offer. The main attraction was the "Fresh Faces of Fashion" event, showcasing the Fall 2006 runway collection of two emerging South Asian fashion designers: Swati Argade and Romain Kapadia.
Kapadia's menwear collection presented an edgy, multi-layered look best worn by svelte men. His top offerings were certainly his re-envisioning of formal wear, expressed in a nutmeg-hued pair of pants complete with tuxedo striping on the outside seams, paired with a black shirt with alternating transparent and opaque areas worn under a rich black jacket.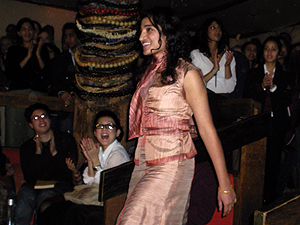 From a few standing ovations to spontaneous cheers of appreciation for specific designs, the crowd's reaction spoke volumes about Argade's collection. I loved her stunning "temple tower 2" coat, a double-breasted wool coat with multicoloured embroidery outlines despicting signature New York skyscrapers. The entire piece is architectural, from its profile to its crisp vertical quilting and its subtle emrboidered emeblishment. It's on my wishlist as a future wardrobe icon.
Other personal favourites included a wonderfully wearable wool dress with a keyhole neckline, capped sleeves and an elegantly slate-shaded corduroy trim. But the people's choice award unanimously went to her "temple tulip dress." This piece is at once sexy and simple, yet simultaneously like multivariate statistical analysis embodied in a dress.
The piece references Asian artisanal handcraft in its embroidered border, as well as western notions of the "little black dress", the silk neglige and, to me at least, the oyster. Why this mollusk? Simply because the wearer's movements cause the dress's slits to briefly expose otherwise hidden areas of skin. And that would bring us back to its overwhelming sex appeal.
The pre-show hype proved true, it seems: guests, lights, cameras and models in abundance. (And as an additional hurrah, at least this show did not fail to embrace globalization in its model mix.)
Read more about Argade and other South Asian designers in this article in Little India.
Technorati tags: Fashion Designer Fashion show Model Cain