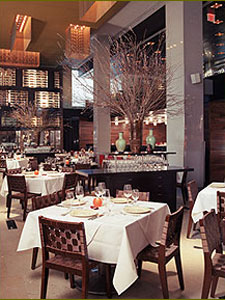 One would think that the Brit's bad reputation in the cuisine scene would dissuade a chef with the name "English" from branding his restaurants with his last name. Not so Todd English, who is as proud of his profile as he is of his cullinary skills.

I the past two weeks I have ended up having lunch twice at English is Italian and been only somewhat satisfied with its offerings.
The first time round a gargantuan mound of deep fried onion rings usurped my plate, overwhelming both the roasted vegetable panini (thumbs down) and my fellow diner. There are really only so many onion rings even an onion ring fanatic could consume. I like them, but their collective volume and their remarkable ability to hold fat had an after lunch nauseating effect.
The second attempt was much better. The bread on the table was tasty, but again drizzled with far too much olive oil topping. This time I stuck to grilled scallops which were delicious, though the bed of greens they were resting on received way too much of a dousing of butter-based dressing/sauce. We rounded off the meal with the doughnuts, gelatto (the basil gelato is a must), and a Nutella breadpudding.
Overall, someone needs to mention to chef Todd, that quantity of fatty substance does not equal good cuisine, although it may be true that some of the most widely enjoyed cuisines (French, Italian), use more than liberal amounts of oils and butters… perhaps it's all in the wrist.
After these two experiences I'm not sure I'll easily return here again. Having perused the chef's site, I wonder why he didn't stick to say modelling. There are an inordinate number of headshots that grace his restaurant website, as well as a link to his journal. You'll also discover that Todd is very proud of the fact that he was named one of the "50 Most Beautiful People" by People Magazine five years ago. Hmmm, maybe we should all stick to our core competencies — like the inviting and carefully-designed, subterranean bar in the restaurant.
Technorati tags: New York Restaurant English is Italian Todd English