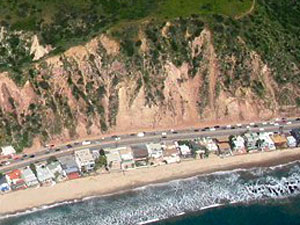 Until this weekend, I have felt sympathetic for those California residents whose homes have been washed away by mudslides and landslides. Then I discovered that what I had attributed to an act of God, is in fact attributable to an act of stupidity!

Why would anyone who built their home on a steep incline of unsonsolidated materials expect that it wouldn't head downward under, oh, the effect of gravity, especially when well lubricated?
It is surely even more stupid to build your home in the natural run-off channels of a watershed. After all, how many times have the media lamented the "ill advised" habitation of flood plains in flood prone areas of the world like India and Bangladesh? This is exactly the same thing, except the inhabitants are the product of the world's most expensive education system, which surely makes this hubris even more unforgivable.
Yet, on a wonderful six-mile hike in the Westridge area, we had spectacular views of houses that are guaranteed to qualify for the title, "a river runs through it" when next it rains. They were perfectly situated in the canyon valleys where runoff must flow.
Ah well, at least I can rest easy the next time disaster strikes, as it is guaranteed to. Because I also learned that in LA, the value of your property lies mostly in your property. The building on a property is easily and relatively cheap to replace; that's the silver lining in a mudslide.
Technorati tags: Los Angeles Malibu Landslide Real estate