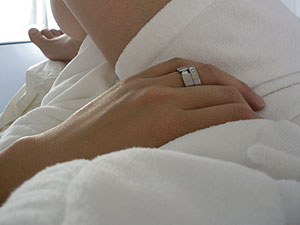 Some 48 hours ago, I was ordering a club sandwich and chocolate cake from a georgeous room Jay booked at Hotel Pierre (right on Central Park.) My mom and I had just returned from the hairdresser (Amour de Hair), and skill, spray and 100+ clips held my "updo" in place. (Anecdotal evidence places the groom shopping for sunscreen for our honeymoon at the time!)

An hour later, photograper Chris Ramirez and his assistant joined us, while a second photographer joined Jay. "Good heavens!", my mom exclaimed. "You didn't tell me it was going to be like Hollywood," and made a gracious escape into the bathroom.
Being a minimalistic kind of gal — minimal embellishment on the dress, limited jewellery (ring, hierloom watch and hair comb) and no makeup (okay, a swipe of lipstick and mascara) — it didn't take too long to get ready and head uptown to the Conservatory Gardens.
We parked in a perfect position — with views of arriving guests with tinted windows to screen us. (I get this celebrity thing ;0)
Our week-long weather angst thankfully proved in vain. After days of "60% chance of precipitation and overcast," we got rain-free sunshine, followed by a perfect, cool evening. (I'm not sure how many more meteorological sources there are out there, but Jay found, compared and contrasted a mighty load of them!)
The ceremony was so wonderfully meaningful to us both (and apparently more than a handful of curious park-goers!), followed by a stroll together before we joined everyone for various photographs. Then it was off to Tavern on the Green for the reception.
It was all wonderful and we're surfing on a wave of contentment and your good wishes!
Once we're back from honeymoon we plan to keep you entertained with more marital musings — behind-the-scenes wedding stories, the almost suit disaster, the last-minute boutonnieres, the truth about our dance, how many people can a Manhattan apartment host for brunch?, and some of our wonderful (and wittiest) gifts and other fun bits and pieces, as well as how we cope with ordinary life again!
Plus there will be the official wedding photos to share. In fact, those who saw the fold out album from our photographer were totally wowed! Especially considering it arrived during the reception.
Until then, I've been a terrible visual plagiarist (but it doesn't count too much if I credit you and admit it upfront, right?) and put together a short photoessay with some wonderful photos shared with us by some sharp shutterbugs. Thank you all! Click here to view the photos.
Technorati tags: Wedding