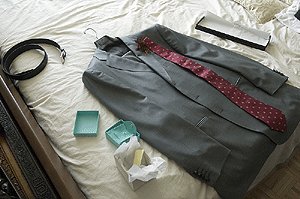 When people ask me what the "wedding disasters" were, I count myself lucky that there were only two. And then, even in the moment, we had a core calm that all would somehow be fine. One of those bumps in the aisle was a certain suit for the groom, from none other than Ermenegildo Zegna, *the* suit for this season (according to various fashion rags.)

I was on a train to have supper in DC when the call came in. (Yes, yes, I know it's a little unusual to take an eight-hour return trip for a four-hour supper, but this was supper with the original American University gang from graduate school. Brief but sweet!)
On the other end of the line was an angry Jay, his voice contorted in ways I hope never to hear again. He'd been for his final fitting and the folks at Barney's seem to have altered everything in exactly the opposite way to which it was supposed to be altered. The perfect waistband? Let out. The prfect pants below the knee? Taken in. The pants above the knee to be taken in? Ignored.
"I look like I'm wearing *&%!! jodhpurs!" he roared.
To add insult to injury, the dear people on Barney's 6th floor had been iffy about exactly when the re-altered suit would be ready. Maybe Friday… maybe Saturday… Clearly action had to be taken. I could only imagine the horror if it had been my dress.
Early the following week, the week of the wedding that is, I threw on some casual chic and headed to menswear. But not before taking a telephonic tour of Barneys and finding out who managed who, and who their boss and their boss' boss was.
Bridezilla's not my style, so one lowered voice conversation later, and the head of menswear had the welfare of one suit on his priority list.
And all's well that, clearly, ended very well. One groom looking amazing in a truly georgeous suit! (Photo: Chris Ramirez.)