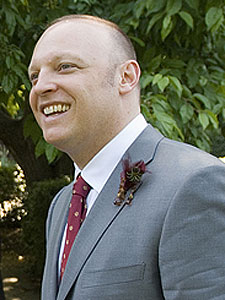 If you've been perusing recent posting you probably already know that the flowers we ordered for my wedding bouquet never arrived. (If you missed that snippet, read about it here.) What I didn't mention in that story was that those flowers were also supposed to be used to create corsages for our equivalent of the wedding party.

My own calmness at these unpleasant turn of events suprised even me. It was Thursday night, two days before our wedding and, what could we do? There was already so much to still settle. But having had the wonderful Takashimaya experience late Friday, I awoke Saturday morning (wedding day), with one thought in mind. "Hmmm, wonder what else they might have gotten in today?"
Jay had elegantly reserved a long weekend at The Pierre Hotel, a grand dame of a hotel where his late gran always used to stay when in town. The Pierre was as swank as the stories and photos I've seen of his gran: vaulted ceilings, gilded, with suited elevator attendants and diningrooms en suite. The Pierre is located on on Fifth Avenue and the south east corner of Central Park, so it was a mere stroll to Takashimaya to see sate my curiosity.
A gentle cruise around the stems in stock galvanized me into action: they had a stem of orchids in the most perfect shades (yellow gold with a plum/burgandy shading in the centre that matched my dress exactly — and hadn't designer Swati Argade mentioned just that shade of gold as a good match?) Even more improbable, they had stems of immature proteas, basically proto-proteas, little green pinecone-like flowers buds dusted with that same shade of plum- burgandy. It was a sign.
Ever-excellent florist Sandra was surprised to see me a) back, b) on the wedding day and c) at 9:30 in the morning. After confirming that all was okay with the bouquet, I bought a stem each and headed across to to launch Project Boutonniere.
The sad truth is that I had been experimenting with this for weeks, thoroughly enjoying trips to M&J Trimmings, stocking up on glue sticks, ribbon and other supplies. All had been scuppered by the non-delivery of the flowers, and now, it was all systems go with only 45 minutes to spare. (We had appointments for our hair.)
When Sandie, Jay's mom, walked in to the apartment, she witnessed the insanity of my mom and I in the midst of boutonniere-making madness. My mom, who had done floristy as a hobby, was selecting blooms and applying soaked cottonwool pieces to the base and creating slim plastic envelopes around the bases. We florist taped these along the short stems and then I applied the selected ribbons and trims to the bases and finished each one. 18 later and we were ready to go.
It was Jay's mom who completed the task a few hours later, expertly applying everyone's orchid corsage or protea boutonniere through what seemed like granite-solid stems! A real team effort and success!
Technorati tags: Wedding Flowers Florist Takashimaya Corsage Boutonniere