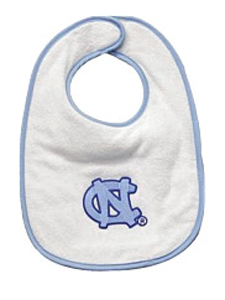 A certain significant other just returned from a long weekend to old haunts, habits and hobnobbers. And we were very glad to have him back. (Although there is something to be said about being able to span the entire bed and blankets and not have to wrestle one's beloved for rightful ownership of the body pillow ;0)

Being a terriffic dad-to-be, he'd also made sure to fit in some time to get the acoutrements to ensure baby Calvin is supporting the right sports teams from the start. So the little guy will be well prepared with footed pajamas and onesies, all proudly bearing Carolina blue.
It must be further noted that he's also a wise dad-to-be, because he bought these items to fit our little one from 0-24 months! Tarheels — count yourself fortunate to have a new baby fan on your side.
Now I'll have to see if they make those crazy Vodacom Blue Bulls hats with horns in infants sizes. (No, I'm only joking!)
Technorati tags: UNC Tarheels baby clothes Onesie