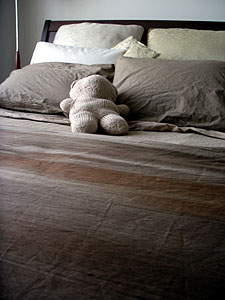 Believe it or not, but it's taken the two of us almost five months to break out the bed linen we received as wedding gifts. But it's been well worth the wait.

Currently, we're enjoying the bedding bounty in shades of sand, sable and calming browns. (See top left.) To this end we reconciled two designers, pairing the Ralph Lauren sheets and pillow cases with a Calvin Klein duvet cover. Ahhhh… 300-plus supima cotton count delight!
I also discovered, to my great joy, that the other bedding set we received perfectly complements the set of cream and gold pillows I made some years ago. Yeah! We look forward to enjoying them both for years to come.
In case you're wondering who is perched, front and centre, in photo 1. That would be baby Bobbi bear, one of my baby Calvin projects, a.k.a. a knitted teddy bear. Yes, he still needs to get his eyes and nose embroidered on, but I think he's pretty cool!
Technorati tags: bedding linen wedding gift teddy bear