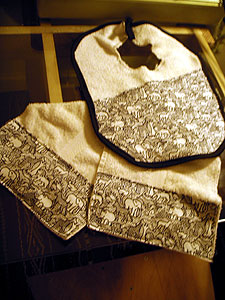 Where does environmentally friendly and baby meet? A number of places.
Like the landfill — where some astounding percentage of landfill space is taken up by very slowly degrading, disposable diapers, "nappies" as they're known back home. We're intending to try out these very cool sounding g-Diapers to lessen the environmental impact of our little guy. They're Australian made and they are flushable, completely biodegradable and even safe for septic tanks. Pretty amazing if it works.

But that's not the only place baby and green meet. Yes, organic food is another. And another nexus of the two has been in one of my baby craft projects. That would be using up scrap fabric and recycling our old towels. Now that we can luxuiate in the fullness, softness and absorbency of our fabulous wedding gifted towels (ahhhh…), it meant we had a set of old towels left.
Combine my "re-use, recycle, reduce" childhood with the fact that I grew up in a culture of not throwing things out if they still work and you can probably see where this post is going. My reading and empirical observation has revealed that babies are pretty messy creatures. Let's face it: spit and a whole lot of other things happen. That translates into an extraordinary amount of stains, clothing changes, laundry and… a seemingly never-ending need for bibs and something called burpers.
Having acquainted myself with the burper concept — basically a customized and well-marketed version of the old towel over the shoulder to hopefully absorb baby drool etc. — I directed the full power of Google to find me "bib burper free sew pattern." And find it did.
A few PDF options later and I happily spent a few hours communing with my late grandmother while using her old Singer sewing machine to combine a fun, monochromatic African savannah scene and pieces of old towel, into a matching bip and burper set, as pictured above. One down and several to go.
They're no showpiece. But hopefully by the time I finish the last one I will have somewhat improved my ability to attach bias binding (which has some wierd other name here in the US) to a curve without odd kinks. But I figure that if baby Calvin is simply going to dribble fluids of varying viscosity all over them, he probably won't mind these imperfections. After all, he gets his unique little "oops couture" that comes sraight from the heart via my hands.