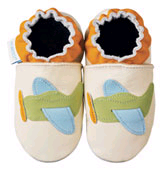 The Stowaway and we are still reeling from the goodwill, good times and generosity shared by a brace of friends in New York at a surprise baby shower last Sunday.

The venue, Agave in the West Village, was fabulous. No one, other than one of the organizers, C&M, had been to it before. The brunch menu satisfied the spectrum of carnivores (gourmet hash) to vegetarians (bountiful salad and quesadilla selections) and those, like er, me, with a sweet tooth (brioche French toast and Mexican chocolate fruit fondue!)
We were so touched by the detail and thoughtfulness that was evident. From the retro Chinese women and babes reproductions at each place setting, to the his and hers boars marking Jay and my seats. Calvin is most likely going to be born in the year of the pig/boar, which starts on 17 February. Apparently that's quite an auspicious year, and being boar-borne, I can personally testify to the general happy-go-lucky nature of us porcines.
Speaking of happiness, there were numerous reasons for us to be extremely happy — the fellowship and friendship around the table, and a bounty of generous gifts that have been making their way to our home. (Right now I'm enjoying one of the various breastfeeding accoutrements, a stool that has taken some strain off my lower back… ahhh.)
Calvin is comfortably set for his entry into the world. With comfy shoes, legwarmers, additional clothes and a set of the cutest (and capacious) hand, cross-stitched bibs. He'll be a real little man-about-town in his super-chic and black Baby Bjorn with fleecy cover and chill out in a variety of positions in his Moby-D wrap. We've been testing the configurations (using a stuffed animal as recommended, see photo!) so hopefully we'll be a little more polished in our use when the little guy is ready to get out and about.
We've also been getting to grips, literally, with his awesome travel bassinet. It unfolds and sets itself up with a slight twist and has all sorts of features to protect him from the sun, bugs and cold floors. It's going to be a staple in our travels and is sizeable enough to last him well through his first year.
And he's going to be one appropriately stimulated little guy, with the mobile we've been eyeing for some time, roll-a-rounds and finger puppets, and a wiggly giggler toy. (Plus a washmit duck that I will have as much fun using as I hope he will enjoy.) Dad seems to think I'm enjoying the toys a little too much!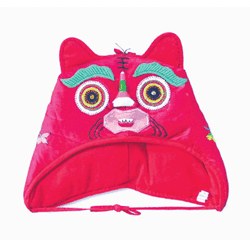 In a special nod to the little guy's ethnic heritage (something that choked up my mom when I told her), Calvin received a jade amulet and a tiger hat — two traditional Chinese baby gifts. The hat protects the little guy from negativity and, when worn on his first birthday it will catch between its ears, all the heavenly goodness falling from the sky. The Pi jade amulet is a continuous circle, representing the endless circle of life, longevity and ever-lasting life. It is believed to protect the wearer from harm, keeping them in good health. (Incidentally, it happens to match the bracelet I received as an infant.)
Calvin's German ancestry was recognized in a Calvin and Hobbes collection in German (that's going to be dad's job!), some good South African choral music and in a perfect blend of it all and a nod to the Big Apple, the cutest onesie with the iconic "I heart New York" in Chinese :0)
Technorati tags: Baby shower New York Chinese Gift