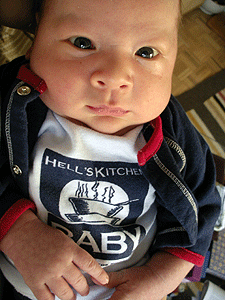 Thanks to our neighbours R&B and their delightful daughter S, Calvin's wardrobe includes a funky T-shirt that ensures his street cred in our ever more popular neighbourhood of Hell's Kitchen.

And you don't have to take my word for it, the New York Times has just documented the skyrocketing popularity of our locale. Read what they have to say about the changing nature of 'Chelsea North,' here.
And so you can see why one's mini-metrosexual style is important. Think you'll agree Calvin is tres cute.
Technorati tags: baby clothes Hell's Kitchen