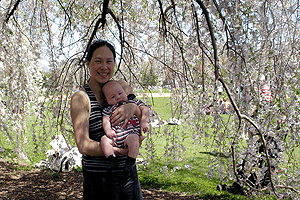 Sunday was the first, brilliantly sunny and brilliantly warm day we've had this year. Central Park was incredibly crowded, with every spare spot resembling Sheep's Meadow i.e. a body occupying every spare foot of lawn.

Grammy, Calvin and I made our way up to the Great Lawn to rendezvous with Jay who had just finished three hours of softball with his crew. We staked out a picnic table in the Pinetum (anyone know how to correctly pronounce this word? Please comment and let us know!) And while the three of them hung out, I went for a run around the Jackie O. Reservoir.
One couldn't ask for a more beautiful experience. A cooling breeze, petals from flowering cherry blossom trees lightly floating down. Apart from a few sessions in the gym, it's the first cardio I've done since the little guy was born, so I'm proud to say I managed to run tw-thirds of the way around, before having to gear down to a powerwalk.
After that, we rewarded ourselves with a hefty meal from our local Westway Diner — reliably satisfying and reliably well served. We loved the oversized aisles as they proved perfect for parking Calvin in his pram without worrying about anyone barreling into him.
Speaking of strollers (prams), it was also the first day we debuted him in the stroller (versus the car seat stroller.) He seemed very comfortable, complete with the special infant head craddler attached and the 170 degree recline setting. (Do I sound like a commercial for a business class seat on an airline yet?)
On Monday, an even warmer and equally brilliantly sunny day, we said a thank you for not having to go to work as much of New York had to, and walked up to Central Park and spent most of the day there. This time space was much more available, although Sheep's Meadow was as crowded as a hot summer's weekend day. Realising we'd have some nursing to do, we scouted out various locales and plonked our picnic blanket out in the dappled shade of a tree on a hill just south of the lake.
Calvin proved himself a true New Yorker; spending a ton of time simply looking at the people passing by. Here's looking forward to many more lazy days together!
Technorati tags: baby infant family Central Park New York