Calvin got to meet his Grammy for the first time when she visited for a week at the end of April. Weatherwise, the week ranged from miserable (which kept us indoors) to brilliant; the constant was that everyday we ended up being spoiled.

Grammy applied her personal and professional paediatric experience to great effect: can you say snooze? Calvin benefited from a series of excellent naps — and we have photographic evidence.
During the week, the little guy progressed leaps and bounds in both his smiles and sounds. He seems to love the word "hello" and it doesn't take any imagination to hear him saying "hello" right back. It is so cute to watch him studying your face and mouth and working his tongue, lips and throat like crazy to experiment and make sounds.
He's also become an expert at rolling guttrral r's. Jay asks what he's trying to say. His paediatrician explains it's called "trilling." I say he's going to be able to roll his r's perfectly for pronouncing those French words.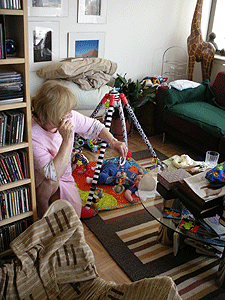 Grammy also helped nurture Calvin's batting practice. In this photo you can see Calvin enjoying one of his new toys, especially when Grammy patiently twirls it above him over and over again.
The weekend weather rewarded us for our patience through the cold, wet and windy earlier week and we made the most of it — strolling and shopping through Chelsea and Union Square, relaxing in Central Park, and savouring the first ice cream sundaes of the season.
Click here to see more images from the week.
Technorati tags: baby infant family grandparent New York