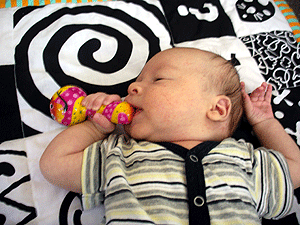 This past week my weekly Babycenter e-mail informed me that this was a good week to introduce Calvin to a rattle. We were prepared, with a traditional ratlle and an adorable bear that attaches to baby's wrist.

Months ago, while wandering the West Village I'd come across one of the local outlets of European toy and giftmaker, Pylones. I couldn't resist the brightly coloured yellow rattle. So I decided to try it out.
Of course the little guy hasn't worked out that his hands are *his* hands… is working on his eye-hand co-ordination… so working out that when he held on to the rattle and moved it and it rattled… that he was responsible. Actually, the sound is less "rattle" and more like something you'd add as a perusssion instrument to a soundtrack. But nonetheless, Calvin was surprised and in the end, not too sure about all this rattle stuff. You can see some of the results in the video below.
Technorati tags: baby infant rattle video coordination Early Childhood Development