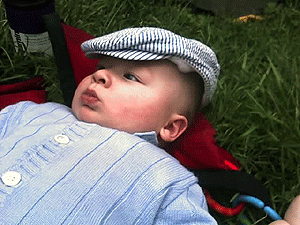 It's been exactly three days since we returned from our month-plus-long safari to South Africa. And while Calvin seems back on Eastern Daylight Time, I seem to have parted company with my brain and body somewhere mid-Atlantic.

There'll be posts aplenty telling of friends, family, revelry and more in the weeks to come, but for now all I have to share is Calvin's first Fourth of July.
After having spent a month in a country where Sundays remain days of peace and tranquility intended for families and friends to hang out and chill out, as opposed to shop; and where shops in major malls close by 7pm; it was somewhat remarkable to both Jay and I to note that many of the businesses in our neighbourhood were open on yesterday's national holiday.
After a leisurely 'red, white and blue breakfast' — that would be patriotic blueberry waffles topped with bananas, strawberries and whipped cream — we made our leisurely way up to Central Park where we bumped into S, L and NR. (And they call this a big city! Crazy.)
We caught up with them, all made a Whole Foods pitstop and then parted company. We headed back to Hell's Kitchen to join a barbeque in our community garden. It was great. It was just what I needed to perk up my homesick and jetlagged lethargy: the smell of red meat grilling and the sound of birds. That way, you see, I could imagine myself back in SA at a braai.
I was particularly happy for Calvin, who got to enjoy the lawn. He spread himself out, grabbing handfuls of grass and throwing them up in the air with delight. That's my less-urbanized boy! (As pictured above — that dapper hat is a real head turner!)
Technorati tags: 4th of July Central Park picnic barbeque braai South Africa