It's Christmas Day here and we're enjoying as relaxed a day as we can (multiple pre-dawn wake ups not withstanding!) That's one of the little changes around here, including our elevated tree, seen here on top of our dining table surrounded by a sea of largess. We are very thankful and feel quite spoiled.
Not surprising, the largest pile of presents was for Calvin, who was equally enthralled with his board books, clothes and tambourine as we was with some of the packaging. A few moments from the day captured below:
Engrossed in the most excellent Yum Yum Dim Sum board book from his Aunt R, Uncle D and cousins C and P.
The 'in-progress' stocking… maybe it'll be completed this time next year?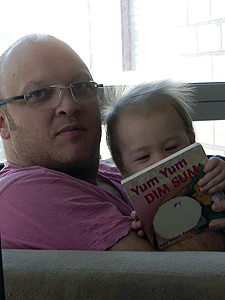 Calvin wowed by a Night Before Christmas pop-up book
Getting rhythmic with his new tambourine
Reading his new French book about snow from Bobo.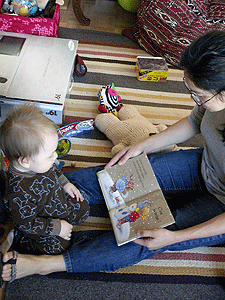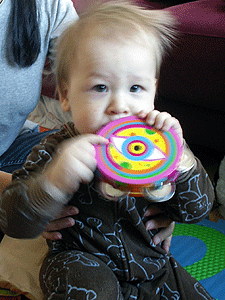 Today I also discovered that my brother and I are living a somewhat parallel life: he with Una, a new puppy addition to the family, and I with Calvin. They're almost the same "age" right now. Una wakes up and wakes everybody else up at 5am everyday; sometimes that's the case for you know who too. Una's arrival has also necessitated the placement of their Christmas tree and gifts at new altitudes. And of course, both are infused with seemingly boundless energy and fonts of pure joy.
Here's wishing you and yours a most joyful Christmas if it's a day you celebrate, and a most joyous day if it's simply an ordinary day on your calendar.
Technorati tags: Christmas celebration gifts