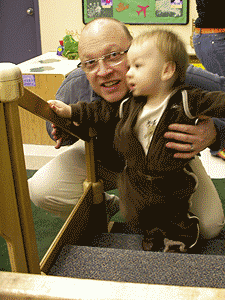 On Friday, Calvin's creche held their holiday party. It was his second — he'd already paid a party stop to the one thrown by my office, leaving behind a trail of smiles and shredded naan bread.
This time he got to explore the room for older toodlers, 12-18 months, and did he have fun! He loves going up the stairs, and these had a slide for going down, which he enjoyed trying out with Dad's assistance. They have a different style of tunnel that filled him with great delight, so much so that when it was time to go home, he was rather put out and objected loudly.
He also got to open a present. A lovely board book about farm animals with fuzzy parts to feel. Together with an assortment of crackers and cookies, he had a holiday party to remember.
Technorati tags: Christmas celebration party