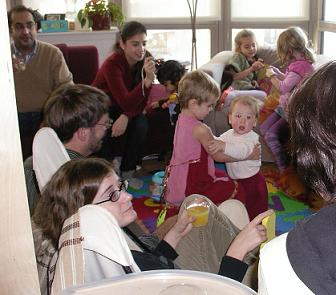 For the past years, Jay and I have held a Christmas Tree trimming party. In the most recent years, we've battled a blizzard, a frozen tree, and a flooded tree, but this year was the most difficult battle of all — the alternate tree.
This year's tree is somewhat different; comprised of amber twigs in a vase on our diningroom table. (There'll be more about the yet-to-be trimming of the "tree" in a later post.) The real milestone was the amount of enjoyment had hanging out with our friends. This year's party was a highpoint — a most festive time with friends big and small, full of fun, new friendships and great cheese. (Tail ended after almost everyone had left, with a fever spike for Calvin, but which now seems to be under control… we hope.)
But what of the alternate tree? You see, I'd come rapidly to realize that 2007 was not going to be filled with the festive smell of spruce or balsam fir, the need to water aforementioned tree daily, and being able to amble down Ninth Avenue and glance up at our tree casting a cheerful, decorated glow out the windows.
The reason was simple: any kind of tree this year poses two main hazards. One, the in-house Everest appeal any such tree would present for our budding climber, who cannot yet walk but is steadily perfecting the art of climbing up the Turkish floor pillow on to the sofa; up us; and trying to balance on the giant tennis ball to get on top of the coffee table. It's safe to say he needs no further encouragement.
Two, one realizes that despite being a very child-centric holiday, Christmas ornaments seem to be designed with a single aspect of child safety in mind: to ensure the Emergency Room and pediatricians are kept busy dealing with the unfortunate results of combining small, fragile, colourful and sometimes electrified baubles with uncoordinated little people who like to put the aforementioned in their mouths.
Hopefully our haute (in elevation) tree this year will ensure the appropriate level of festive cheer for Calvin's first Christmas, while avoiding the downside.
Technorati tags: Christmas tree trimming party ornament child safety