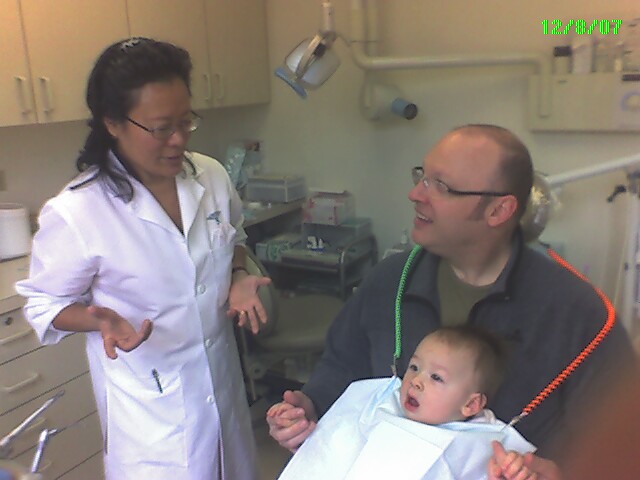 We're happy to report that Calvin is much happier and healthier. After four days of crying, sweating, not eating much and sometimes ejecting that small amount, he is much more himself.
Calvin had Jay and I at his fingertips over the weekend, then got to spend Monday and Tuesday with me and Wednesday with Jay. Today dad's deft touch had the little chap back on his nap and meal schedule, and tuckered out for bed. Go dad!
So we've all survived Calvin's first illness (not counting colds and teething), and along with that first (and hopefully not to be repeated too often), we also got to mark another first this past weekend, before the poor guy fell ill. That was his first visit to the dentist.
Here he is perched comfortably on dad in Dr Rhee's Central Park facing rooms. (Really, the view is sublime and helps put even the most tense tooth patient like me, in a relaxed frame of mind!) That's before he discovered the dentist means someone peering and probing in your mouth.
At the moment, that's one of his least favourite things. But the doctor did manage to glimpse the budding pearly white, which now number six, three on top and three on the bottom, with more on the way.