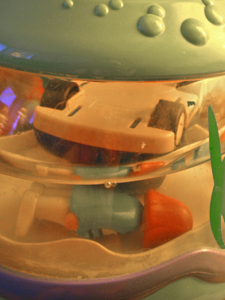 One of the few pleasures of my parental life is watching TV on occasion. My limited roster of viewing pleasures includes Home and Garden TV, PBS and the odd episode of 'Law and Order.' It also includes catching any flavour of the CSI franchise.
If you're unfamiliar with the latter show, Crime Scene Investigation (CSI) is basically a high tech, who done it with funky production values. Calvin unwittingly constructed the type of scene that might start any CSI episode: Using some new, little minature people (part of a Playmobil set) he placed the man, woman and car upside down inside his toy aquarium. Is this what educators think of when they talk about 'imaginative play'!
What amazed him was the idea that objects other than the balls he is used to placing in the aquarium also activate the splishy sounds and Caribbean tunes. Evidence? The random assortment of objects that quickly joined the crash scene which included lids, a pig trough (did I mention this was a Playmobil farm set?) and a butterfly rattle.