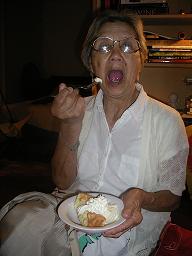 It was only as an adult that I came to hear of my mom's prowess in the realm of sponge cakes. Apparently her powers to create delectable, gâteaux towers were renown. Just not to me.
Although I would be the first to defend her baking skills, my spontaneous recollection of mom's baking was of more-ish arrays of biscuits (a.k.a."cookies"), fruit and nut bars and breads, and paradigm-defining trifles (a layered cake/fruit/custard dessert.)
It turns out that her sponge cake phase pre-dated my birth. And so it came to be in recent years, that sponge cake was top of the list whenever she offered to make something. Yet for years it failed to rise to the occassion. Until now…
Having consumed the golden delight fragrant with the lightest of lemon touches, I can attest that the title of sponge cake queen was well deserved. And now if you'll excuse me, it's time for seconds.