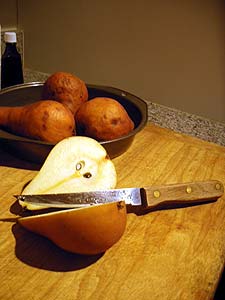 Apple pie, peach cobbler, berry tart… How is it that the pear got gypped out of its rightful place as a fruit pastry filling? Specifically pie (as in the sweet American version of pie). One group's quest to set the record straight.

The trail of pears covers hundreds of miles and starts with a pear grove on the western border of Virginia. Here, in the rolling foothills of the Blue Ridge Mountains, lies an assortment of fruit trees, some of them pear.
More specifically, these trees are sometimes harvested by my friend and colleague, Alex. (Although he has had to beat back the local inhabitants in his quest for pears — deer and Robin Hood racoons.)
We were talking about the anticipated arrival of a box of pears when I threw out the, "and you could have pear pie" line. In my head, there's simply no reason why pears shouldn't occupy a pie as much as apples, pumpkin or pecans.
He was intrigued and I offered to bake up a pear pie from a selection of the Bosc beauties. When I referenced the many handy cookbooks we have I realized that he was absolutely right. The pear pie simply doesn't exist. Well, we were about to change all that!
The shipment arrived and we lovingly photographed the process from start to finish.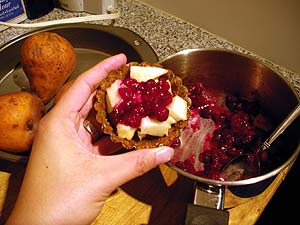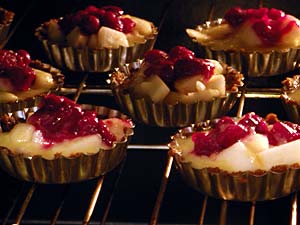 The pears made their way to our apartment and there began their transformation into pielets/tartlets. The process involved Balkanizing many previously used recipes, minaturizing them into mini-tarts, and setting off both smoke alarms in the apartment for 30 minutes. (I don't remember that happening when I baked in places other than New York city apartments!)
Paired (or should that be peared?) with a ginger snap cookie crust, the pears were chopped and topped with some lightly cooked cranberries, and the pie filled with standard pie filling.
Alarming though the process was, it had a fairly tasty conclusion. Take it from me, pear tarts/pies exist, and they're a darn tasty treat :0)