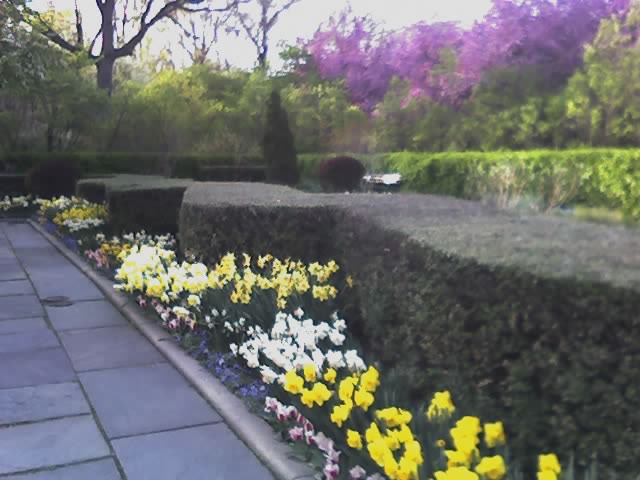 Today was a perfect day for a walk in the park. Not any park, Central Park. 15 degrees celsius, sunshine and thousands of fellow New Yorkers outdoors.

The stroll started out at Columbus Circle, 59th Street, and ended up where it will all start some weeks from now, at the Conservatory Garden.
Central Park is awash with colour; raining white and pink petals from the blooming cherry trees overhead. Banks of yellow and white daffodils wash the slopes of sunny banks, and deep blue flowers blossom in the shade.
The Conservatory Garden itself is georgeous, with cherry trees and purple bushes. Shrubs in the English-styled South Garden (also known as "the Secret Garden",) have been trimmed, and bulbs enlighten every border (as in the photo above.) The wisteria, which envelopes a many-feet tall wrought iron gazebo, is just beginning to awaken from its winter slumber.
All of which makes us filled with anticipation and hope for good weather in 6 weeks time!
Technorati tags: New York Central Park Garden Flowers Conservatory Garden