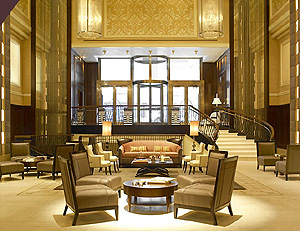 Last night we decided to treat ourselves to dinner at the bar at Eleven Madison Park. This stunning restaurant has recently undergone some changes — a new chef and improvements to both the menu and the already wonderful decor.

We started with a shared field green salad, followed by a poched poularde with fava bean puree and black truffles and I ordered an awesome foie gras sensation: foie gras terrine with bing cherries, sour cherry broiche and… foie gras creme brulee. It was sensational, perfectly proportioned and perfectly crowned with dessert: a sheeps milk cheese cheesecake with sacher cake and cherry compote.
The bar area is a great alternative to main diningroom dining (where we had a delightful meal with family lastyear.) More relaxed and with offerings just perfect for a light summer dinner.
Plus the service was impecable. Wish we had gotten our server's name as she was incredibly knowledgeable (on matters beyond the menu) and made our experience a pure delight.
We stopped by the newly revamped Carlton Hotel (pictured above), also on Madison Avenue. The revamp is magnificent and luxurious, exponentially so by the integrated and multi-tiered, multi-bar, multi-lounge, multi-diningroom provided by Country. They did a stylish twist to the Shirley Temple I ordered (with lavender honey instead of grenadine) and the great service and complimentary champagne didn't hurt! We'll definitely be stopping by for a dinner date.
Technorati tags: New York Restaurant Eleven Madison Park Country