This morning I awoke to a wierd thought: 'We'd better take some more of those tummy portrait shots before there's no more tummy!'

At 39 weeks and two days, we've been living with the stowaway for quite some time. But it was really only over the last three months or so that the tummy has become an entity in and of itself.
We've become used to it. It's increasing bulk and heft. Its sway as it serpentines ahead of me as I walk (now weeble) in a straight line. And the regular energetic motions of the little guy it cosets as he goes through his baby-robics and Calvin-sthenics each day. In fact we've become so used to it that the thought that it will no longer be in a matter of days seems quite bizarre.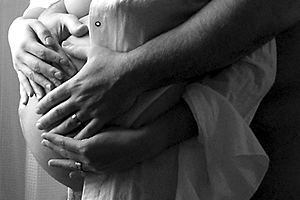 And so the initiative to document the tummy. For us, for our families who won't get to see it in its "status maximus," and for Calvin one day to screw up his face in the disbelief that we actually committed this to pixel preservation (the sole purpose of which to gross him out and/or embarrass him.)
Thus this morning we squeezed in a photo session. One has to love tripods, autofocus and self-timers in these situations! Oh yes, and the wonderful light that comes streaming in through Calvin's bathroom window (hence the remarkable consistency of that background!)
I've posted my two favourites here, and you can see a few others that I've posted on Flickr by clicking here. Tummy documentation? Check.