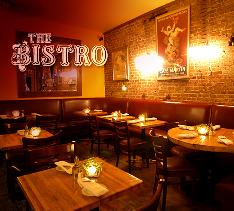 There's nothing quite like anticipation, particularly when food and drink are involved. So it is with much joyous anticipation that my mind wanders to this time tomorrow evening.
Why? A simple combination of baby sitter, adult company and a wine promotion at a local, Upper East Side French bistro that we have grown to like in a very short period of time.
Tomorrow is a special wine evening at Bistro 61 (Photo courtesy Bistro61.) Great brunch and lunch menu, with a wine list that absorbs Jay for long period every time we visit. (Oh… and they have high chairs too!) They have a great wine list, one Jay has been studying for some time.
So apart from our dining buddies, he has also carefully pre-selected the wines. (So perhaps my anticipation is second only to his!) On the wine menu? Chateau Prieure-Lichine, 4th Grand Cru Classe 2000, Chateauneuf du Pape, "Domaine Chapoutier" La Bernadine 1989. And if anyone's still standing, Chateau Talbot 1985.