This Thanksgiving was quite different. This year we celebrated quietly, intimately and didn't even do any heavy lifting in the kitchen!
Thanks to a 'Thanksgiving for Two' from Whole Foods, we got to have dinner for four, counting Calvin and our friend DM.And we even had leftovers. Plus Calvin actually ate dinner — he turned out to be a sausage stuffing afficionado. With minimal cleanup, I could get used to this!
But one aspect we didn't cut back on was our table. I love putting together settings and this year was no different… okay, a little different in that I decided to steer clear of the traditional reds, oranges and browns. Instead, our table was a blue and white setting, with the table cloth somewhat abbreviated on all sides to discourage any thoughts by the shortest member of the diners of pulling things.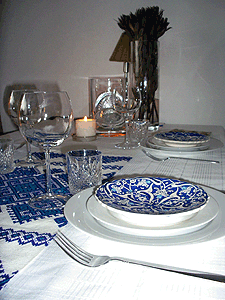 It was a welcome opportunity to break out the Turkish plates from Izmir, and couple them with a runner from the Ukraine, and some unique South African silverware by Carol Boyes and Maneki, and turn our whiskey tumblers . And of course, to gather around and think about the very many things we have to be thankful about.