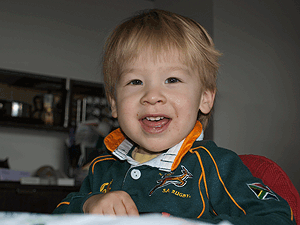 According to a rather rabid chainmail I received, today, 1 December, was supposed to be the day for those who felt in any way nostalgic/protective about the "Springbok" name and logo for the South African rugby team, to take a stand by dressing appropriately.
Of course, my focus has been on work to such a degree that I thought D- or rather "S-day" was tomorrow. Alas. Calvin will likely be sporting this tomorrow, but at least he can sport it virtually on the right day.
I don't necessarily agree with some of the extremist chatter on the subject, but I'm a supporter of not being confused about what sports team is being referred to. As in "The Proteas held a practice today,"… errr.. would that be the cricket/soccer/rugby etc. etc team? There are times of the year when that could be a statement to give one pause.