Three major highlights happened over the past 10 days, and if only I could locate the cable that connects my camera to my PC, I'd be able to share the evidence with you right now! So you'll have to close your eyes and picture it until the 'Great Cable Hunt' comes to a successful conclusion.
The most enduring highlight was a week-long visit from Calvin's Grammy (i.e. paternal grandmother.) A week sounds like a chunk of time, but it went far too fast for all of us, and we sunk into somewhat of a post-Grammy funk on Tuesday. A loving Grammy, afterall, is a win-win-win-win squared treasure for any family: an extra person to share hugs with, read stories, play with, spoil a grandson no end and cook up delicious fare. To share experiences with, make errands a pleasure, and did I mention spoil a grandson no end?
We've all been feeling blue in the wake of Grammy's departure. I felt ill much of Wednesday and Calvin expressed his dismay by feeling ill and putting us full alert (i.e. awake and working) from 2am on Thursday.
So we were all relieved when he was happy to don his Halloween costume on Friday and kept it on contentedly for hours in the evening. As he's starting to use two- and three-word sentences (like "[your name here], sit down"), he proudly rubbed his fuzzy giraffe suit and said, "Ab-ba Calvin." ("Ab-ba" being his word for giraffe, pronounced just like the Bantu word meaning "to carry on one's back," and not pronounced anything like the band behind the hit song Mama Mia.) Photos to follow when…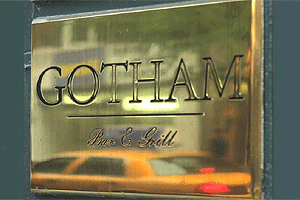 And the third highlight? A certain 21 again birthday :0) Yours truly was spoiled with an extravagant dinner at Gotham Bar and Grill. The name fails to do justice to the elegant environment and the celestial dining experience. I had (apologies to fowl) the foie gras appetizer and the most amazing roasted lobster served over an oxtail reduction. I am a huge fan of crustaceans, but this lobster was so exceptional I ate much of it with my eyes closed, to Jay's great amusement and pleasure. He had the black bass ceviche and the pork chop, though "chop" is a complete understatement for what looked more like a mini roast! Click here to access the swanky website.
And if that wasn't enough to mark the moment, Jay surprised me with a gorgeous vintage bacelet and scarf pin; mini-Woolies millionaire's shortbreads arrived from South Africa (in one piece!) in time to celebrate, I've been spoiled left and right by family and most especially, the most excellent birthday wishes from friends. I can't tell you how fabulous it was to receive your wishes throughout the week. Thank you — I'm still wearing the resulting smile!