In honour of  a new year, a new Calvin category on the blog: Tricks at six. We baked a cake together on the actual day and opened gifts that successfully made their way across the miles from South Africa. Then on the weekend, we had a small celebration with a few friends. Theme: Let's go Lego! And Lego we did, complete with my best attempt at a thematic cake.
The celebration was a great success due to four critical factors:
1. A great venue. Our neighbourhood has a jewel of a coffee-meets-candy place, The London Candy Company on E 94th and Lexington. I use the word 'jewel' consciously, because the place tantalizes the senses, from the British sweets (Smarties!), to the Stumptown Coffee, and the great interior design.
The owner welcomed the birthday invasion (any dictionary that doesn't include four six-year-olds in a candy store under the definition of invasion obviously doesn't know much) and we had a brilliant venue… not to mention organizing a US vs UK candy taste-off. (In case you're wondering, the kids were fixated on M&Ms vs Smarties. We wisely planned this as the party finale, releasing the sugar-filed horde into the late afternoon Upper East Side.) If you haven't yet ventured in, it's time you headed uptown, and if you can't, at least pay a virtual visit by clicking on this link.
2. A recipe for playing well. Based on a very good experience at Lego camp, we brought in Playwell, a company dedicated to teaching kids engineering through Lego play.  The boxes of well-organized parts were enough to draw both adults and kids in. And their colour-coded groupings made them look as attractive as the candy. Using two elevated rails, the party goers got to build a powered jousting vehicle… and rebuild, customize and joust again to see which one would unseat the other. As you can imagine, a great time was had by all…for hours! I was impressed to see kids laughing as their own creations tipped over and splatted into dozens of pieces. And just start again. The facilitators are pros in fun! (Read more about Playwell here.)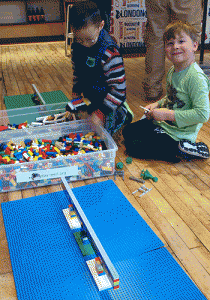 3. Fabulous friends. This year Calvin decided he wanted to have an intimate party and those friends made it a joyous and fun-filled event, not to mention their parents who brought them and with whom it was lovely to socialize.
4. Our families. Milestone events are often bittersweet as an expat; you're never fully surrounded by everyone you wish could be there. Last year we celebrated in South Africa and this year in New York. So we are so grateful for the extra effort everyone puts in to make these days special — the military precision planning of present arrival timing, the calls, the cards and the constant of Grammy being with us to celebrate every birthday.