As the last hours of 2006 eke their way down, it's time to make sure I note the milestone celebration we had for Jay's birthday on the 19th.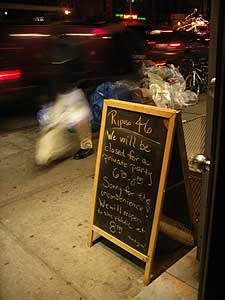 Somewhat of a surprise — as in he knew something was up, but not what! — a few dozen friends were able to gather on *the* day at an intimate little Italian wine bar in the Hell's Kitchen 'hood. Riposo 46 was the perfect venue, partly because its Italian wine focus complete with fresh flatbreads, cheese plates and charcuterie platters embodies a number of things Jay really enjoys. Definitely because the service and management are wonderful, accommodating and the size perfectly accommodated our crowd, so we were able to take over the restaurant for a few hours. (Partly too because they were not attempting to extort the equivalent of a month's salary as too many other venues proposed!)
Apart from the victuals and vino, I'd also plotted to have Jay's birthday cake be a cupcake… or 40 cupcakes to be exact. I'd spent months surreptitiously gauging his personal cupcake-ometer. I knew Billy's in Chelsea was a favourite and he sometimes patronized Little Pie Company down the block for a cukcake treat. But I also remember him being quite impressed with the offerings from Crumbs. After verifying that these would work, I ordered 40 cupcakes from them, a staggering selection fromt heir gourmet offerings — mudslides and oreo cookie, carrot cake to strawberry shortcake, and some normal yellowcake frosted ones too. (Read a past entry on NY cupcakes here.)
Taking the afternoon off work, the first order of business was to get the missing candles for the cake centrepiece. It was to be a little intriguing, comprised of the numbers "4" and "0" in yellow (purchased in Ohio over Thanksgiving) and two "1's" and a "6" in blue (purchased on the day.) The candle numerals were position to read two ways: "40" for the years and "14610" for? Any guesses? V got it right — the number of days Jay had been alive. The finishing touch was a small, crystal Empire State Building, with the intention that the centrepiece would a) provide something to blow out and b) appear somewhat like an urban skyline.
Backpack bulging with serving platters, candles and sundry party supplies, I made my way across town to Crumbs to collect the 40 cupcakes. Then it was on to the hallmark store to get 15 helium inflated balloons. I'd brought along a garbage bag to contain the balloons, but it proved too small, but fortunately the store had an enormous one and we cages the bouyant party animals in it.
Then is was up to me to somehow stagger home with my load. I guess it must have been a bizarre spectacle. Bulgin backpack, to which an out of control bulging black garbage bag was tied; bulging tummy and a balancing act of cupcake boxes gripped tightly before me. I waddled my way along 42nd street and had barely made it half a block before a taxi cab pulled up next to me.
The driver shook his head. "Lady, where are you going?" he enquired. I explained that my destination was just four blocks away and that I was fine. "This is ridiculous," he commented. "Just get in and I'll take you there." And so, after some wrestling with the balloons, the cab driver dropped me off in front of my building, gratis. Who says either chivalry or good deeds are dead?
After a break, I made my way up the road to Riposo and handed over the booty. They took care of it all from then on — storing the cupcakes and arranging the platter when it was time; tying the balloons up around the restaurant. it was fabulous.
But more fabulous than any of this was, I think, Jay's joy at being able to celebrate the day with so many friends. Those who weren't able to be there sent lovely messages and called. A great way to celebrate a milestone moment. (See more photos form the event here on Flickr.)