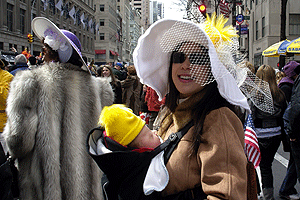 On this frigid morning, Calvin and I bundled up and headed out to Fifth Avenue to view and be viewed at the Easter Parade.

What little apprehension I might have had by going to the parade 'a seule' was melted by the fact that I wasn't alone — but with one of the cutest young gentlemen in New York! We were bouyed as we exited the elevator in our building to come face-to-face with a threesome, two of which were sporting exhuberant Ostrich feather confections. We beamed at each other with warm "Happy Easter!" wishes, and Calvin and I headed out.
Well insulated from the below freezing weather and enjoying the sun, we strolled down from E53rd to E49th and up to E57th street, the route that was sealed off from traffic. It was fabulous to see the effort and creativity others had put into their hats. There was a trio dressed identically from the hats down; a woman who wore a Spring garden, literally a hat with a growing garden; another trio wearing nineteeth century garb with top hats and parasols.
The other aspect of the parade is feeling a little like a celebrity or a model. Tons of tourists, locals and fellow paraders ask you to pose and take your photo. In our case, they were asking me to pose so that they could get Calvin and his irresistable, yellow, pom-pom hat! Above is a photo someone took for us.
Technorati tags: hat Easter Parade New York